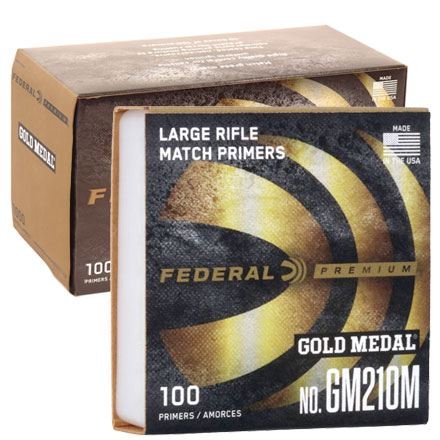 FGM210M FEDERAL PRIMER GM210M GOLD MEDAL LARGE RIFLE
These precision-machined Gold Medal® primers feature the same high-quality components and optimum ignition that have made Federal Premium® Gold Medal cartridges the preferred choice of match shooters around the world.
Unrivaled Precision and consistency in the industry
The steady ignition
They are built to exact standards with extremely tight tolerances.
FGM210M is the part number.
federal gm210m
For reloaders, it is essential to have reliable and consistent components. Federal offers a comprehensive selection of primers and wads to meet your specific requirements. Gold Medal primers are manufactured to exact tolerances to ensure that your loads perform to their maximum potential. Champion primers are a cost-effective option for high-volume shooters who need to keep their shell boxes stocked at all times. There are also many wads available to accommodate your preferred loads.